Employment Contract

Price: €3

Payroll Calendar

Price: €1

Employee Attendance

Price: €3
Posted on 9 October 2015 by Accountant
---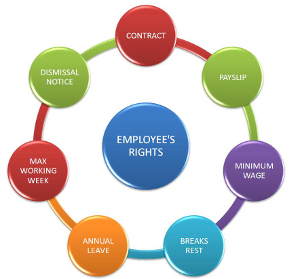 If you are working in Ireland, you will be interested what's your basic employee's rights in Ireland. You have the right to get Contract, Payslip, Minimum Wage, Break and Holiday and others.
Seven basic employee's rights:
1. Contract of Employment
The employer needs to give all employees certain information in writing within two months of starting their employment.
Following information must be included in your contract:
The full names of the employer and the employee,
The address of the employer,
The place of work,
Job title or nature of the work,
Starting date of employment,
If the contract is temporary, the expected duration of employment,
The rate of pay or method of calculating pay,
Whether pay is weekly, monthly or otherwise,
Hours of work, including overtime,
Paid leave (other than paid sick leave),
Terms and condition for sick or injury leave,
Periods of notice.
2. Payslip
The payslip needs to contain gross pay and all deductions in detail.
3. Minimum wage
Most adult workers in Ireland have the right to be paid €8.65 per hour.
Exceptions to this rule:
person employed by close relatives
person aged under 18 and trainees
the higher minimum wage applies for the industries below:

agriculture, from €9.33 per hour,
catering, from €9,00 per hour,
contract cleaning, €9.50 per hour,
construction, from €16.69 per hour,
electrical contract, from €20.74 per hour,
hotels (outside Dublin city, Dun Laoghaire and Cork city), from €8.86 per hour,
retail grocery, from €9.60 per hour,
security, from €10.01 per hour.
4. Breaks and Rest
Breaks
Workers have the right to an unpaid minimum breaks during working hours. Working for 4.5 hours and more – a 15-minute break. Working for 6 hours or more – a 30-minute break which may include the previous 15-minute break. Shop employees when working for a period of six hours and those hours of work include 11.30am – 2.30pm have the right to an one-hour (consecutive) break that must start during 11.30am – 2.30pm
Rest periods
A rest period is any time that is not working time. Employee has the right to: – 11 consecutive hours rest per 24 hour period, – 24 consecutive hours rest in any period of 7 days and this should normally follow on from one of the 11-hour rest period already mentioned. As an alternative your employer can give you two 24-hour rest periods in the week that follows one in which you did not get the entitlement described in above. 24-hour rest period above should include a Sunday unless it is agreed otherwise in your employment contract.
Breaks and rest periods do not apply to employees below:
The Gardaí,
Defence Forces,
Employees who control their own working hours,
Family employees on farms or in private homes.
Exemptions
In the following situations employers can be exempted from providing the rest periods:
Exceptional circumstances,
Collective agreement,
Shift work,
those employed in transport activities,
those employed in certain categories of civil protection services.
5. Annual leave and Public holidays
The right for annual leave and holiday starts when the employment starts.
Annual leave
Full-time workers have the right to minimum of four working weeks paid annual leave per year. Part-time employees have the right to paid annual leave consisting of 8% of hours worked, but a maximum of 4 working weeks in the year. Employees working more than 1365 hours in a year (for example more than 27 hours per week) have the right to full four week paid annual leave. The exception to that is, if employee changes employment during a year.
Public holidays
Employees have the right to nine public holidays during the year:
1st of January,
St. Patrick's Day,
Easter Monday,
First Monday in May,
First Monday in June,
First Monday in August,
Last Monday in October,
Christmas Day,
St. Stephen's Day.
Employer may choose to give you one of the following four options:
a paid day off on the day, or
a paid day off within a month, or
an extra day of paid annual leave, or
an extra day's pay.
If the public holiday falls on a day on which the employee does not normally work, the employee is entitled to one fifth of his/her normal weekly wage for the day.
Employees who are asked to work on a public holiday have the right to:
an additional day's pay for the day, or
a paid day off within a month of the day, or
an additional day of paid annual leave.
A part-time employee will qualify for a public holiday if he/she is working at least 40 hours in the 5-week period (for example 8 hours per week) that is immediately before the public holiday.
Sunday Work
Employees are entitled to a premium payment or paid time off for Sunday work.
6. Maximum is 48 working hours per week
The maximum working week is 48 hours averaged over 4, 6, or 12 months period depending on the industry. Employers must keep a record of how many hours an employee works.
7. Notice before dismissal
Workers are entitled to a minimum amount of notice if their employment is going to finish. Every employee who has been in the employment  for at least 13 weeks (3 months) has the right to a minimum period of notice before the employer may dismiss him/her.
The minimum amount of notice depends on the length of service as follows:
13 weeks but less than 2 years service – one week notice,
2 years but less than 5 years – two weeks notice,
5 years but less than 10 years – four weeks notice,
10 years but less than 15 years – six weeks notice,
More than 15 years – eight weeks notice.
An employee who has at least 13 weeks service is obliged to give 1/2/4/6/8  weeks notice (according length of service mentioned above) to his/her employer when resigning, unless there is a written contract of employment that provides for a longer period.
Some other employees rights
Redundancy
Redundancy is where an employee's position ceases to exist and the employee is not replaced. Any employee aged 16 or over with 104 weeks' (two years) continuous service with an employer has the right to a statutory redundancy payment in this situation. The statutory redundancy payment is two week's gross pay per year of service up to a ceiling of  600 per week plus one week's pay, which is also subject to the ceiling of 600. This payment is tax-free. Some employers may make redundancy agreements above the statutory rate which could be taxable.
Agencies
Employment Agencies must be licensed under Irish Law and must not charge a fee solely for seeking employment for another person.
Discrimination
Employees are protected from discrimination in employment on the grounds of their age, gender, marital status, family status, race, religion, sexual orientation, disability, or membership of the travelling community.
How do You get Your Rights?
If you believe you are not receiving one or more of your employment rights, as a first step you should always ask your employer. They may not be aware that they are required to provide you with a particular entitlement. By asking them you may find that the issue can be resolved.
Steps:
1. Step – Ask your Employer If not resolved then, 2. Step – Seek the Advice of Your Trade Union If not resolved then, 3. Step – Complain to the National Employment Rights Authority Contact for NERA: NERA Information Services: Lo-call 1890 80 80 90 Email: info@employmentrights.ie NERA Inspection Services: Lo-call 1890 220 100 Email: inspection@employmentrights.ie NERA Enforcement & Prosecution Services: Lo-call 1890 220 200 Email: enforcement@employmentrights.ie Email: prosecution@employmentrights.ie www.employmentrights.ie You will find more details about employees rights here.